Plant Leasing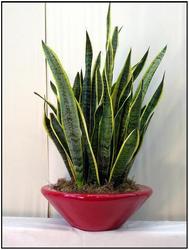 Plant leasing is an economical way to bring plants into your office. For no money upfront, your office could look comfortable and inviting to your customers! These monthly packages include a free interiorscape consultation to assist in choosing the perfect plant for each location. This monthly fee includes weekly watering, fertilizing, cleaning and pruning of all plants, as well as our plant replacement guarantee. The packages also include upscale plant containers in White, Black, Silver, or Java. We are currently using the high-end fiberglass "Morgan II" line from Gainey Ceramics.









Silver Package - $120 a month

You receive 10 healthy plants for your office.
Choose 3 tall trees, 1 reception area designer mesa bowl for lobby area, 3 medium desktop plants, 3 small desktop plants.


Gold Package - $210 a month

You receive 20 healthy plants.
Choose from 6 tall trees, 3 medium trees, 1 designers mesa bowl for lobby area, 2 large desktop plants, 4 medium desktop plants, 4 small desktop plants.
Additional plants are $12 each, per month.




Purchase & Maintenance | Rental | Leasing | Containers | Plants